Dental Chair Type Dental Stool new design saddle stool ,medical chair
Product Description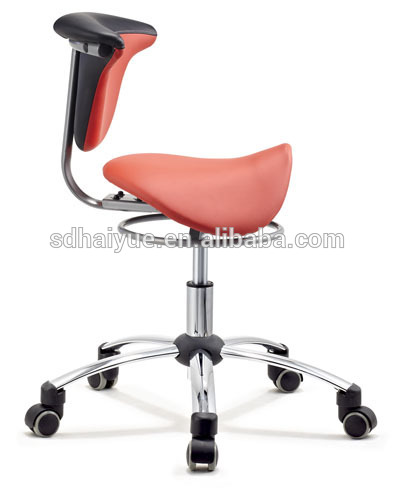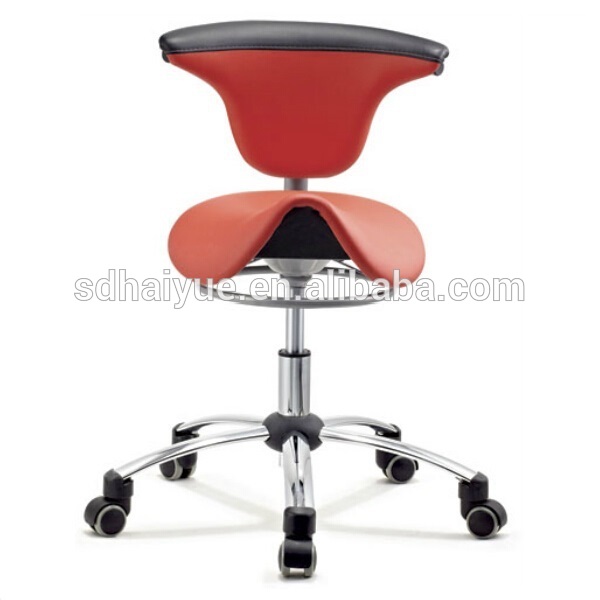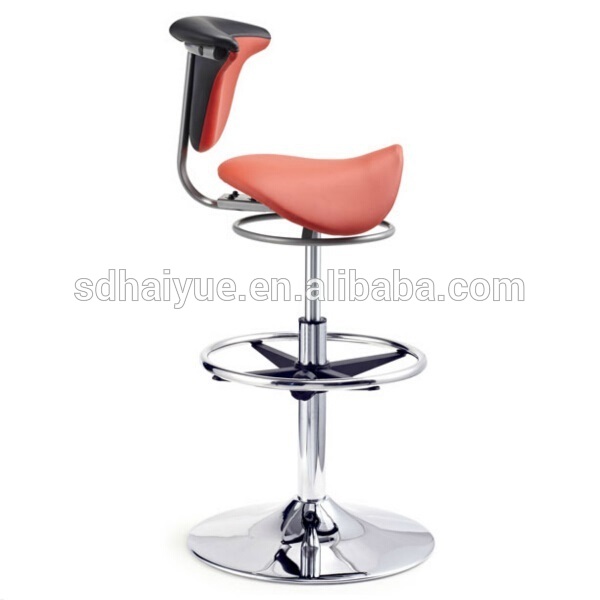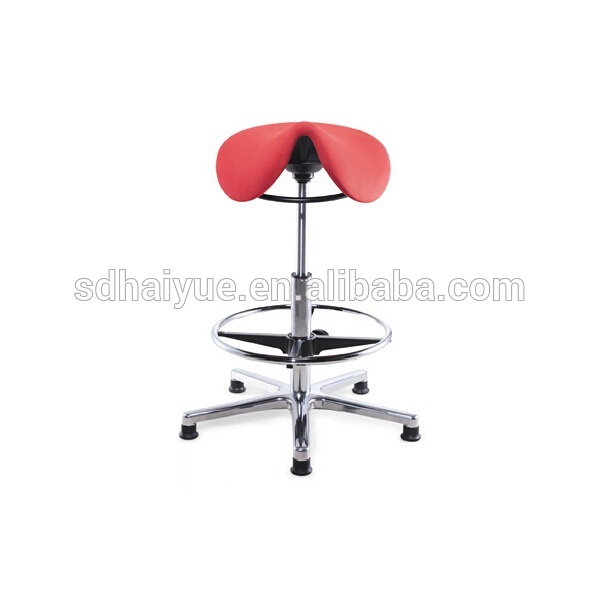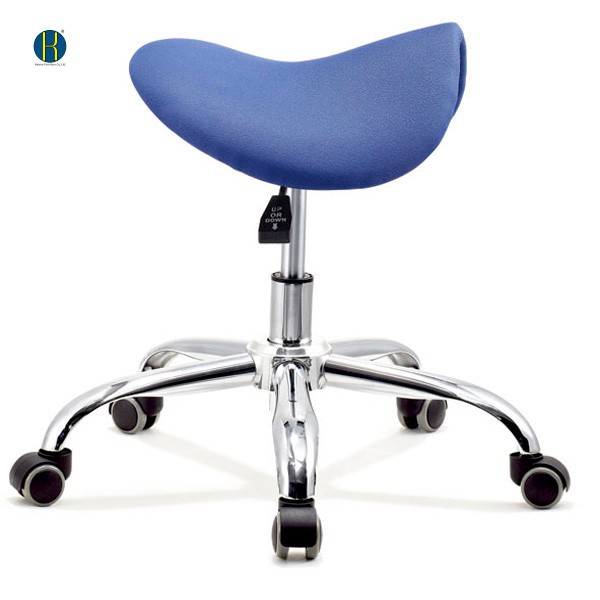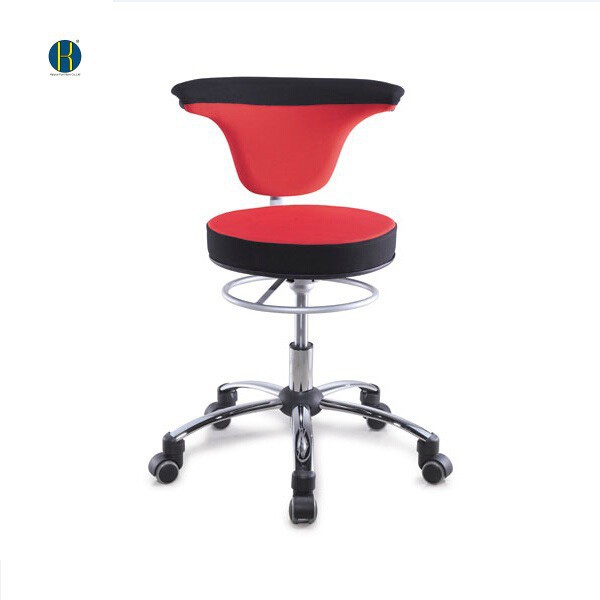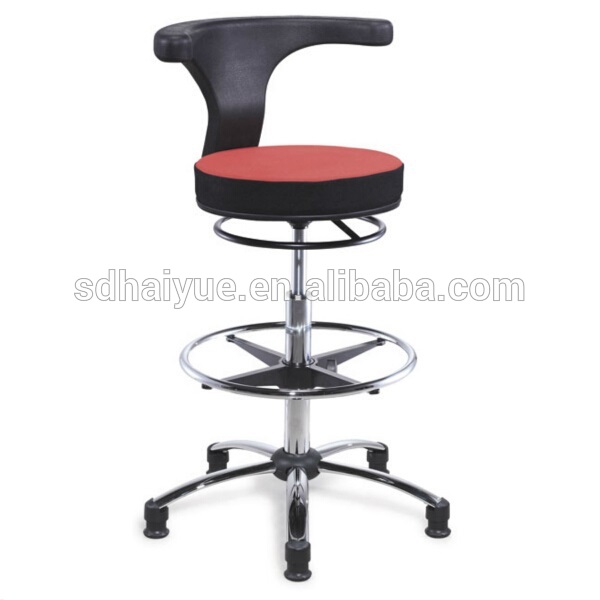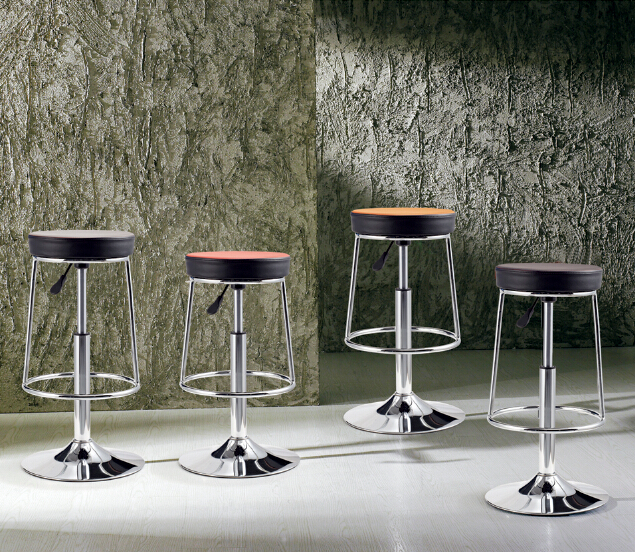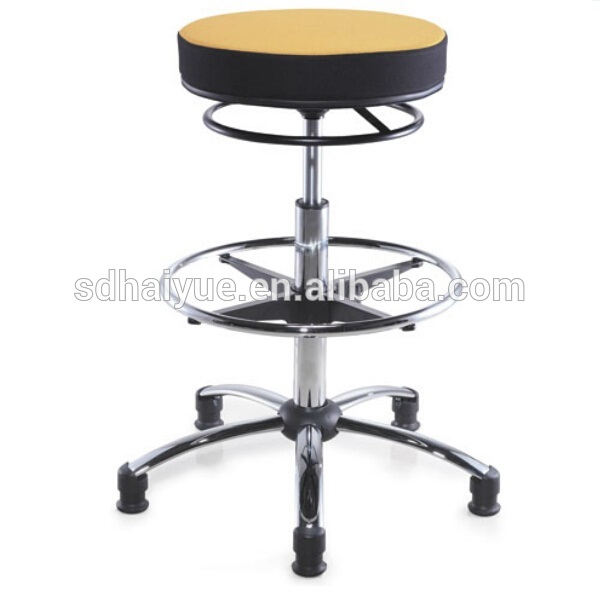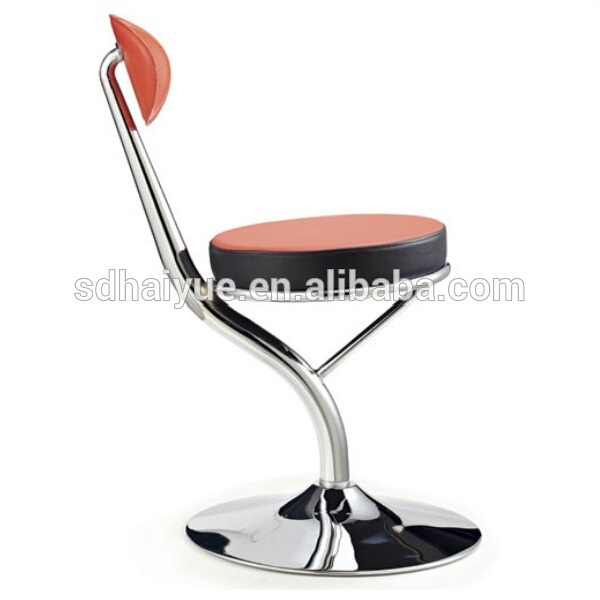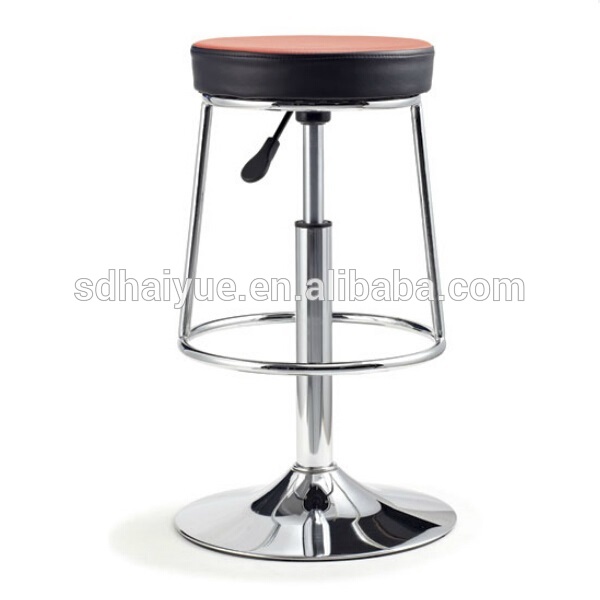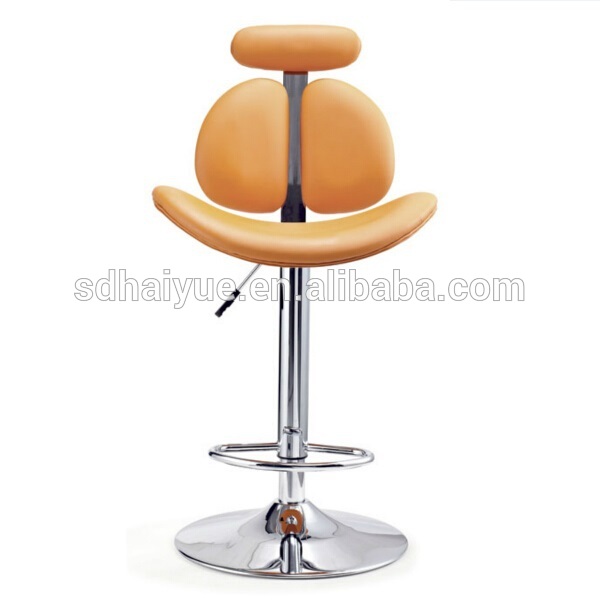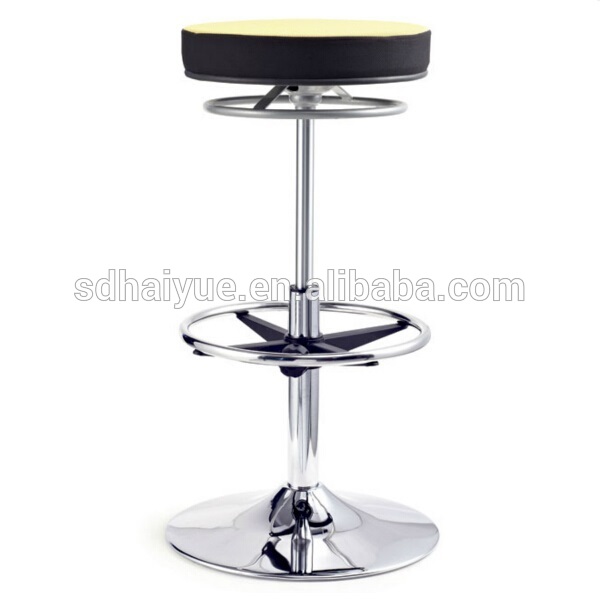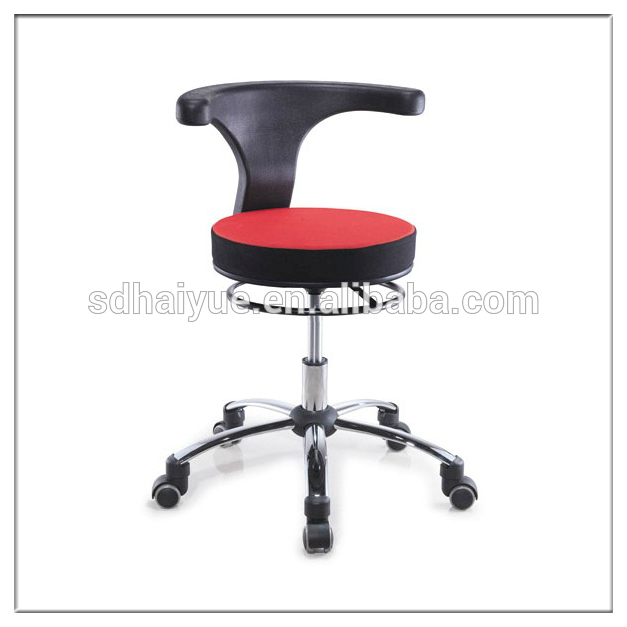 PRODUCT INFORMATION
----------------------------------------------------------
@MECH.:ROUND BAR SIMPLE MECHANISM;
@CHROME GAS LIFT:BIFMA STANDARD 8CM;
@35-40HIGH DENSITY NEW FOAM MATCH15MM PLYWOOD;
@WITHOUT ARMS;
@CHROME BASE @ 610MM dia.;
@PU CASTORS WITH DUST COVER;
@CHAIR WEIGHT:10-12kg;
@ DIMENSION:W*D*H=49cm*46cm*47-55cm;
SUPPLIER REMARKS
----------------------------------------------------------
@THE QUALITY MUST BE SAME AS FAIR SHOW.
@ THE QUALITY MUST BE BASE ON BIFMASTANDARD.
@ SAMPLE ORDER OR TRIAL ORDER RECOMMED BEFORE COORPORATION.
@SAMPLE LEAD DATE IS 10-15DAYS AND MASS ORDER 30-45 DAYS SINCE RECEI VING DEPOSIT.
@ PORT OF LOADING:SHENZHEN ANY PORT.
@ MAKER:HAIYUE FURNITURE CO.,LTD FOSHAN, CHINA
TIPS
----------------------------------------------------------
A Guide to Buying the Ideal Office Chair
@BEFORE YOU BEGIN
Before deciding on what kind to buy, here is a breakdown of the components of a typical office chair and the elements that will make it comfortable.
The backrest supports the back. For it to provide the maximum support to the lumbar region (the curve at the base of the spine), the backrest should be height adjustable. It should also be gently curved to match the natural curve of a person's spine. For a chair to be ergonomic, a backrest should be 12" to 19" wide. If an office chair includes a tilt mechanism, this will allow the backrest to maintain lumbar support when you move.
The base should be well-made and in a five-star configuration to prevent tipping when you lean back. Metal and wood bases will last longer than ones constructed out of plastic. For additional stability, select an extra-wide base. Most Office Chairs will have casters; some brands might offer locking casters so that the chair can be immobilized. Before making a final purchase, check to see that the casters are appropriate for the type of flooring that is in your home or business office. Use hard casters for carpeting and soft or rubber-coated casters on a hardwood floor or any other surface that can be scratched or marred.
@WHAT KIND OF OFFICE CHAIR DO I NEED?
High back office chairs have backs usually extending to the upper back. They are sometimes high enough to support both the neck and head. A high-back chair relieves tension in the lower back, preventing long term strain. Also known as executive chairs, they can include features such as button-tufted back cushions, adjustable comfort controls, headrests, removable and/or padded arms, and dual wheel casters.
Also known as multi-shift task chairs, a 24-hour task office chair is designed for extended use or multiple-shift environments that require round-the-clock staffing such as nurses' stations, police stations and call centers. Intended for a succession of users, 24-hour task chairs are built to be strong, durable and long-lasting. Many offer height, seat and armrest adjustments geared to easily customizing the chair to personal comfort levels, as well as tension control to adjust the chair to an individual's body weight. Some 24-hour task office chairs include drafting kits, which will add height and/or a footrest to the chair.
@WHAT TYPE OF OFFICE CHAIR SHOULD I SELECT?
Fabric office chairs come in a variety of colors and patterns. They are also available in different grades of fabric, indicated either by letters or numbers depending on the manufacturer. Whether you are buying a chair for your home office or several for your business, fabric office chairs are a convenient way to blend them with the existing décor and furnishings. To extend the longevity of your Fabric office chair, select a heavy weight fabric that is durable and easy to clean. Check product descriptions to see if a stain-resistant coating has been applied to the fabric. To maximize your comfort, especially if you will be sitting in the chair for long periods of time, choose a breathable fabric.
Whereas the backs of standard office chairs act as an insulator the longer they are sat in, mesh office chairs are breathable, allowing air to flow through. Some types of these chairs have just a mesh back, while others have both a mesh back and seat. Sometimes the back is mesh, while the seat is perforated leather. They are meant to conform to the body and make sitting for long periods of time more comfortable by allowing your back to breathe, thus promoting better circulation. A Mesh office chair with built-in lumbar support is considered to be ergonomic.
@WHAT ELSE SHOULD I KEEP IN MIND WHEN CHOOSING AN OFFICE CHAIR?
If you are concerned about ergonomics, but don't have the budget for office chairs with all the bells and whistles, select a style of chair that includes basic ergonomic features such as controls for adjusting the backrest and chair height, and has a waterfall seat edge.
Adjustment controls are either mechanical or pneumatic: pneumatic office chairs, based on a system of springs and compressed air, are easier to use.
Adjustment controls should be user-friendly and accessible while sitting in the chair.
Office chairs that will be used at a desk or reception area should swivel and rotate easily to allow the person using the chair easy access to the different parts of their workspace without strain or overreaching. 
Product Categories : Saddle Stool